On Sale
adaptogenic BRAIN BLEND oats (vegan, 11.2oz)
We have yet to find someone who has the TIME to measure and pour all the potions and powders for smoothies, so we decided to quit our day jobs and lend a hand. 
We magically combine all the dry ingredient essentials (protein, fiber, fat) so with as little as a blender, berries and liquid, you can embrace true satiation and optimal nutrition.
We also make overnight oats AND old school oats on the stovetop with this product.
INGREDIENTS**
Organic Gluten Free Rolled Oats  
Organic Lions Mane Powder 
supports memory and focus  
Organic Ceylon Cinnamon
anti-inflammatory. antioxidants.
Organic Flax Seeds 
omega 3s. fiber. digestive health.
Organic Hulled Hearts 
fat. protein. all 20 essential amino acids.
Bags are 11.2oz  and about 9 servings    
*Subscription orders will ship every 1 Month(s) and can be paused, adjusted or cancelled at anytime
**Statements have not been evaluated by the FDA. This product is not intended to diagnose, treat, cure or prevent any disease. 
Product reviews
Customer Reviews
TS
09/09/2020
Tracy S.
United States
Super Foods Makes it SUPER EASY and SUPER HEALTHY
Our entire family loves Superfoods! With one scoop, we can add the perfect blend of proteins, fiber, and healthy fats to our morning smoothies without opening 8 different bags of seeds, nuts, and/or containers of collagen. WE LOVE IT! Depending on the bag you order, you'll have a one-scoop-method for adding healthy ingredients like collagen peptides, chia seeds, flax seeds, rolled oats, lions mane, and hulled hearts (among other things) to your smoothies. Tasteless. Easy. Healthy. TOTALY FAMILY WIN.
09/09/2020
Simplified Superfoods
Tracy! You are so kind, thank you for writing a review :) happy its a fam fave!
09/05/2020
Cortney R.
United States
The best!!
Love this so much! It's officially made it's way into my morning ritual!
09/05/2020
Simplified Superfoods
06/20/2020
Susan B.
United States
06/14/2020
Julie M.
United States
Lazy cooks unite
I am loving the smoothie super packets. When it comes to breakfast I am lazy and don't have much time to prepare anything. Enter the small sized packets which are a game changer. Not only are they convenient, but the combination of flax and protein tastes great in a smoothie with no funky after taste. I highly recommend!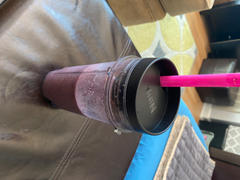 05/31/2020
Susan B.
United States
Best part of my morning starts here!
After trying many store bought smoothie mixes, I was fortunate to receive this wonderful gift from my daughter! My favorite is Balance Blend but everything I've tried has been amazing! On top of a fantastic product, the customer service and shipping efficiency has far exceeded my expectations! Thank you!
05/31/2020
Simplified Superfoods
blushing, susan! thank you for the kind review.