On Sale
VITAL PROTEINS collagen + chia + flax + hulled hearts single serve packets (18ea)
We have yet to find someone who has the TIME to measure and pour all the potions and powders for smoothies, so we decided to quit our day jobs and lend a hand. 
We magically combine all the dry ingredient essentials (protein, fiber, fat) so with as little as a blender, berries and liquid, you can embrace true satiation and optimal nutrition.
We also stir this into oatmeal, sprinkle it in yogurt and toss it in baked goods!

INGREDIENTS**
Grass Fed Collagen Peptides
protein. amino acids. 
Organic Chia Seeds 
Organic Flax Seeds 
omega 3s. fiber. digestive health.
Organic Hulled Hearts 
fat. protein. all 20 essential amino acids.
Packets are .67oz each
*Subscription orders will ship every 1 Month(s) and can be paused, adjusted

 

or cancelled at anytime
**Statements have not been evaluated by the FDA. This product is not intended to diagnose, treat, cure or prevent any disease.
Product reviews
Customer Reviews
08/26/2020
Lorron J.
United States
My Review (Super witty, I know)
I like Simplified Superfoods because it enhances whatever you're already making without compromising the integrity of the flavor. After a while, it's hard to accept smoothies without it. The smoothie is already good, but you're also doing your body a favor by adding it. It's not that often you cross a product that's a 'supplement' as well as a natural 'compliment' to whatever you're making. Simplified Superfoods got it right!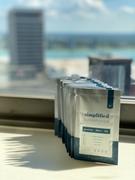 09/02/2020
Simplified Superfoods
you're my fave lorron james!
07/30/2020
Michelle S.
United States
Game changer
Simplified Superfood changed mornings for our family. Instead of grabbing some type of "bar", I and my daughters make smoothies and this stuff makes it do-able (such a timesaver!). You feel like you're starting the day off by doing your body good!!
07/31/2020
Simplified Superfoods
thank you for taking the time to leave a review Michelle! appreciate you!
07/28/2020
Julia C.
United States
Love these!
These are easy & taste great added to many foods you already eat. Did nothing different with my diet for 4 months, and was able to lower my cholesterol 50 points!!
07/29/2020
Simplified Superfoods
What a great testimonial!! Thats awesome Julia, glad we could be part of your health journey!
07/14/2020
Kelsey L.
United States
Making daily routines healthier!
Simplified superfoods has become a norm in my routine when it comes to making smoothies, enjoying a fresh take on oatmeal, or spicing up a banana bread recipe (which I make often)! It has forced me to switch up ingredients I use regularly and opt for the more nutrient dense option. Creative product that I'll continue to use!
07/29/2020
Simplified Superfoods
06/05/2020
Andrea B.
United States
what the kids don't know won't hurt 'em
Great stuff! I tried it for me, and I don't like a lot of smoothie mixes or powders in general, but my kids wanted some of my yummy smoothies. Voila! Who knew they would like this too?
06/07/2020
Simplified Superfoods
thank you for taking the time to write a review! so glad simplified superfoods is kiddo approved in your house ;)