On Sale
VITAL PROTEINS collagen peptides + chia + flax + hulled hearts (11.5oz)
We have yet to find someone who has the TIME to measure and pour all the potions and powders for smoothies, so we decided to quit our day jobs and lend a hand. 

We magically combine all the dry ingredient essentials (protein, fiber, fat) so with as little as a blender, berries and liquid, you can embrace true satiation and optimal nutrition.
We also stir this into oatmeal, sprinkle it in yogurt and toss it in baked goods!
INGREDIENTS**
Grass Fed Collagen Peptides
protein. amino acids. 
Organic Chia Seeds 
Organic Flax Seeds 
omega 3s. fiber. digestive health.
Organic Hulled Hearts 
fat. protein. all 20 essential amino acids.
 Bags are 11.5oz  and about 16 servings  
*Subscription orders will ship every 1 Month(s) and can be paused, adjusted

 

or cancelled at anytime
**Statements have not been evaluated by the FDA. This product is not intended to diagnose, treat, cure or prevent any disease.
Product reviews
Customer Reviews
10/11/2020
Jillian M.
United States
I love it
I have a subscription as I try to make a smoothie with 1 pack every morning. Every month I have a written note thanking me for my business and even got extra packs last month because they ran out of the display boxes! Everything blends nicely into a smoothie and you hardly notice it's there (which is what I want!)
10/12/2020
Simplified Superfoods
awww thank you Jillian! so happy to have you as a customer :)
10/10/2020
Iryna C.
United States
5 Star Product
There are so many products on the market these days. So far, I have tried a lot of products. I'm into fitness and leading a heallthy lifestyle. It's so important to have a good balance and put quality product in your body. When I saw the combination of ingredients in Simplified Superfoods products I hit the jackpot. I'm mixing it with my protein pancakes and smoothies. It boosts my energy in the morning. It's like a pre workout only healthier and good for my digestion. It's an amazing product, I'm so happy i found it. I used to have to buy the ingredients separately to add to my shakes. Now I have more room in my cabinets because I don't have to buy all those ingredients individually and I save money.
10/12/2020
Simplified Superfoods
you are the best Iryna!!! Appreciate you so much! xx
08/26/2020
Lorron J.
United States
My Review (Super witty, I know)
I like Simplified Superfoods because it enhances whatever you're already making without compromising the integrity of the flavor. After a while, it's hard to accept smoothies without it. The smoothie is already good, but you're also doing your body a favor by adding it. It's not that often you cross a product that's a 'supplement' as well as a natural 'compliment' to whatever you're making. Simplified Superfoods got it right!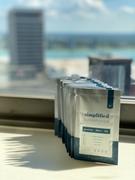 09/02/2020
Simplified Superfoods
you're my fave lorron james!
07/30/2020
Michelle S.
United States
Game changer
Simplified Superfood changed mornings for our family. Instead of grabbing some type of "bar", I and my daughters make smoothies and this stuff makes it do-able (such a timesaver!). You feel like you're starting the day off by doing your body good!!
07/31/2020
Simplified Superfoods
thank you for taking the time to leave a review Michelle! appreciate you!
07/28/2020
Julia C.
United States
Love these!
These are easy & taste great added to many foods you already eat. Did nothing different with my diet for 4 months, and was able to lower my cholesterol 50 points!!
07/29/2020
Simplified Superfoods
What a great testimonial!! Thats awesome Julia, glad we could be part of your health journey!